Category Archives:
Uncategorized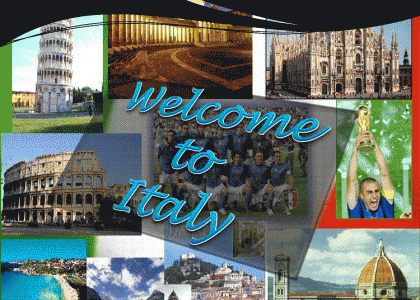 With beautiful coastlines and landscapes – along with its renowned history and rich traditions in art, culture, cuisine, fashion and sport – Italy is one of the most appealing tourist destinations there is. Nearly 50 million tourists visit Italy annually, making it the fifth most visited country in the world. Tourism is a profitable economic sector, bringing in an estimated $200 million per year.
There's so much to see (and eat!), and planning a trip to Italy can be quite an undertaking. Hardly anyone passes up the chance to see the ancient ruins of Rome. The canals of Venice are unlike any others. The Tuscan countryside and the Alps are extraordinary sights. The island of Sicily is almost a country unto itself. Italy also has 49 UNESCO World Heritage Sites – the most for any country – but which ones should you visit? Figuring out where to go in Italy can pose a problem, albeit a good one.
The purpose of ItalyForTourists.com is to provide a guide and overview of select Italian destinations to help make your decisions easier, all with the tourist's perspective in mind. You'll certainly have to craft your own itinerary, but it's hard to go wrong no matter what you choose. Hopefully, at the very least, this site will teach you about certain locations so you can make more informed decisions for your trip.
The more traditional Italian tourist destinations are explored, including the popular "Italian triangle" – Rome, Florence and Venice. Other popular sites, such as Pisa, Naples and the Cinque Terre, are also included. And there are also non-traditional tourist sites – like Sicily, Milan and Bologna – that may not be at the top of many must-see lists, but they can help make the tourist's experience more authentic.
We travel through each destination with three perspectives. All of which are mandatory to get the true Italian experience:
What to see.
What to do.
And what to eat!
Seeing
Anytime you travel to a foreign country, certain landmarks and historical sites come to mind. Italy has no shortage of such sites. Once home to the Roman Empire and with a history rich in foreign influence, Italy has some of the most remarkable landmarks known to mankind. Sure, everyone has heard of the Roman Colosseum and the Leaning Tower of Pisa, but there are literally hundreds of other landmarks and monuments to see. This site will help make sure that you do not pass them up.
Doing
Just as important as what to see is what to do. Landmarks are great, but you can see many of them in a textbook. What you can't replicate is the experience of actually being there. There's a reason why Italians are said to live "la dolce vita" (the sweet life). There are many unique cultural experiences as well as traditional sporting events. And if you don't immerse yourself in this wonderful culture, you'll be missing out – simple as that. How do the locals live? What do you need to get the more authentic experience possible? Where are the best places to shop? When you arrive in Italy and in each city in particular, you'll probably end up figuring many of these things out yourself because you can make each individual experience your own depending on timing and circumstance (as well as your own ambition!), but ItalyForTourists.com will help steer you in that direction.
Eating
And what trip to Italy would be complete without an extensive sampling of the food! Italians take their food seriously and have been perfecting it for a thousand years, and that's why it's so good! Many people may think of traditional Italian cuisine as being pizza, spaghetti and meatballs, and lasagna. But there's much, much more! More than you'll ever eat at an Italian restaurant outside of Italy. And when you return home, you'll probably have trouble enjoying the food at the Italian restaurants in your home city, because it simply doesn't match up! When in Rome, do as the Romans do… and eat as they eat!